Kitesurfing Prices: Rental and Storage
If you are looking for information and prices for lessons and courses, please visit the page Kitesurfing Lessons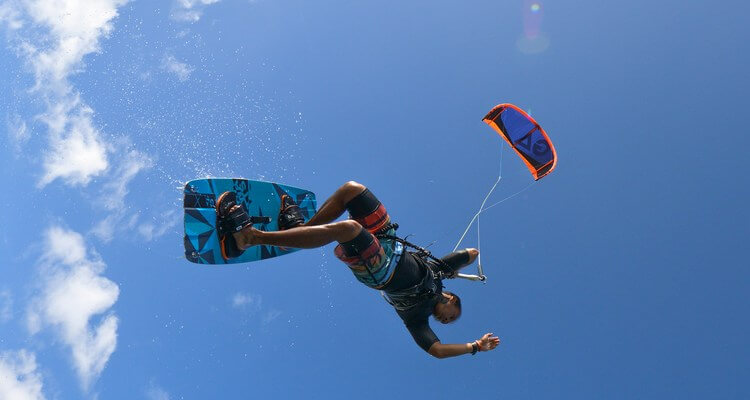 Kitesurf Equipment Rental
|   | 1 hour | 3 hours | Full day | 1 week | 10 days |
| --- | --- | --- | --- | --- | --- |
| Complete set | Php  1.500,- | Php  3.000,- | Php  4.800,- | Php  20.000,- | Php  27.000,- |
| only Kite & Bar | Php  1.100,- | Php  2.200,- | Php  3.200,- | Php  13.400,- | Php  18.000,- |
| only Kiteboard Twintip | Php  500,- | Php  1.000,- | Php  1.700,- | Php  7.000,- | Php  9.000,- |
| only Kite Surfboard | Php  750,- | Php  1.500,- | Php  2.550,- | Php  10.500,- | Php  13.500,- |
Insurance
Insurance is not included in the price.
We recommend VDWS SafetyTool insurance package Allround Protection in Watersports for
windsurfer and SUP
kiteboarder and snowkiter
dinghy and catamaran sailors
A SafetyTool insurance package costs only 39 Euros a year incl. worldwide
Comprehensive cover for rented equipment
Third party liability insurance, insured sum 3.000.000 Euros lump for physical injury/property Damage
Accident Insurance.
Find out more details and book your insurance online here VDWS SafetyTool insurance
Requirements
You must be able to ride upwind, confidently ride amongst other riders and respect the right of way rules (IKO Level 3K). We always happy to offer private lessons if you need to refresh or improve your skills to the required level!
Equipment
Every season we update the range of kite equipment and offer you only the newest gear from GA-Kiteboarding. No matter the wind conditions, riding style and level, the right gear will be ready waiting at the beach before you even put your first step in the sand!
Kites Spark (freeride, big air), IQ (freeride, freestyle, wave) and ONE (lightwind one strut kite). Sizes: 5m - 17m
Boards Blend (freeride) and Watts (freestyle, wakestyle). All the sizes.
Lightwind boards Nobile Flying Carpet and Cabrinha Stylus. 
Directional board GA Flash - great choice to make first steps in strapless kitesurfing! Strapless lessons are available!
Storage for Kite Equipment
Storage of your
kitesurf equipment*
1 day
1 week
2 weeks
3 weeks
1 month
 
Php 300,-
Php 1.500,-
Php 2.500,-
Php 3.200,-
Php 4.000,-
* the storage fee for your kite equipment is related to 1 person and provides you with 1 box good for 2 kites and one board.  Furthermore, you have a free use of our freshwater shower and the support of our team while landing and launching your kite.
Not sure? Find out 3 reasons to kitesurf with us on Boracay.